Specifications
Home Workshop Set
Magnet size each:
Magnets = 2.36"w x 0.875"h
Optional Adhesive Tabs
Small tab = 2.25"w x 0.75"h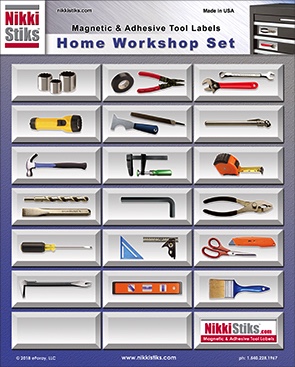 NikkiStiks Tool Organization Labels simply attach to the appropriate drawer or cabinet containing the tool depicted.
The Home Workshop Set includes 20 small magnets featuring 24 tools typically used around the house for projects. Two of the magnets are blank for labeling your specialty tools.
Double-sided adhesive strips cut to size are available as an option when ordering. The strips enable NikkiStiks to adhere to non-magnetic drawers or cabinets.
Home Workshop Set Samples

<< click to enlarge in pop up window >>

NikkiStiks also available at:
<< links take you directly to NikkiStiks product page for each site >>




Purchase Directly from our Secured Online Store!